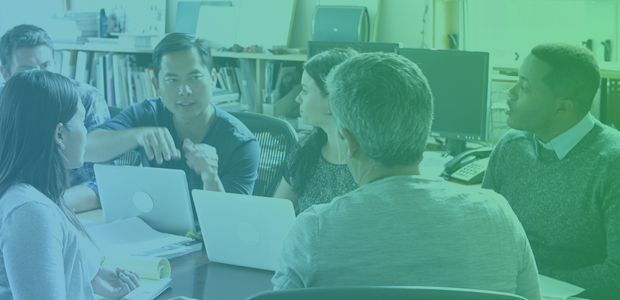 Save time - use brand-new GroupShare 2017
SDL Trados GroupShare 2017 saves time for project managers by automating even more translation project tasks. Manage translation projects on any device, any place, any time. Build powerful integrations, add custom functionality and watch team productivity soar in the latest version of our translation collaboration solution.
A brand-new dashboard
When you login to the new website, you will be greeted by a dashboard which gives you a simple and instant overview of the status of your projects and tasks, so that you can focus on what's important.
As you drill down into the details of a project you will see much more real-time information of the translation progress across your whole project. No longer will you have to wait for the translator to check-in a file to be able to see progress.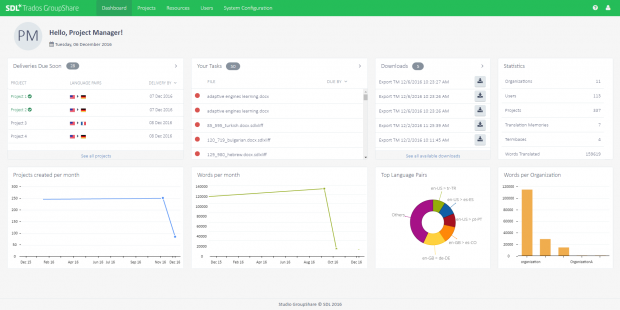 Manage and create projects in GroupShare2017 from your browser
If you need to assign a task to a user or change the 'Project Phase', you will now be able to do this right from within the browser.
In addition to this, for the first time ever you will be able to create new Projects right from the browser with four simple clicks! Now that is exciting! And what is even better is due to the new technology we are using, you will even be able to work from a mobile or tablet device.

Using these new functionalities, you can now create projects wherever you are, even if you don't have SDL Trados Studio at hand. You can also quickly assign work to a linguist on the go from an iPad. Furthermore, if you create many projects daily, your PC will not be blocked from performing file processing as the processing will now happen on the GroupShare2017 Server.
Plan your work better
You can now define due dates for individual files as well as on a whole project basis, making it easier for translators and reviewers to plan their work.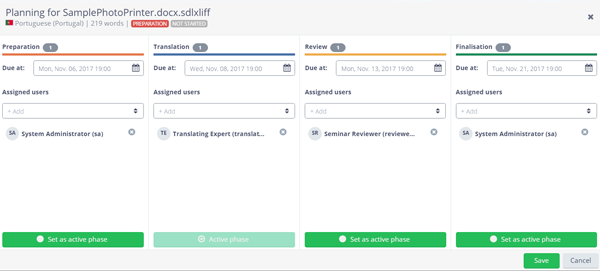 A more secure and efficient way to work with external translators
In terms of making your GroupShare use more efficient and secure, we have made 'User Management' much easier. No longer will you need to worry about granting and removing permissions for resources to translators, as GroupShare will now do this for you. When you assign a task to a user, GroupShare will automatically revoke access once the task is completed.
This not only ensures that translation assets remain secure, it also saves time by reducing manual administrative tasks.
Streamlined terminology sharing
Termbases are now part of GroupShare's Organization structure to enable simpler terminology management. Granting access to termbases is now easier and more secure than ever before.
Get your GroupShare 2017
You can purchase or upgrade GroupShare 2017 and other SDL Trados licenses by the official and authorized SDL Trados representative in Baltic states and Ukraine– K Solutions. The company K-Solutions also offers training in all SDL Trados programs.
For more information about new SDL Trados GroupShare 2017: http://www.translationzone.com/products/groupshare/whats-new.html
By: K Solutions
Source: @sdltranslationzone